April Husband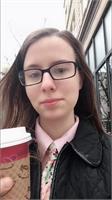 April hails from mid-Michigan where she nurtured her love for both mathematics and foreign languages. She graduated from the Flint Community School District in 2011 and has attended college in pursuit of a bachelor's degree in applied mathematics.
Since joining Jamie's team, April has revisited her educational approach. Her long-term goals include traveling the Eastern Hemisphere as a teacher of math and English as a second language. She wants to improve her fluency in Spanish, American Sign Language, and Japanese before moving on to other languages like Malay and Mandarin Chinese.
She enjoys costume design and choreographed dance in her spare time.
April Husband is currently not instructing any classes.