Lisha Tignor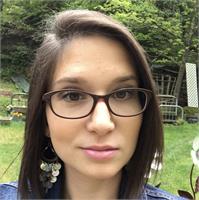 Lisha graduated from Marshall University in 2011 with a Bachelor of Arts in Psychology. After a long and hard road trying to determine what to do with her degree, she entered Marshall University's School Psychology program. This program prepares it's students to work in the school setting providing various services for children with disabilities, mental health issues, and behavior issues.
In 2015, she graduated with her Master of Arts in Psychology. In 2016, she graduated with her Education Specialist degree in School Psychology after completing a year-long internship at the West Virginia Schools for the Deaf and Blind and defending her thesis, which analyzed reading research in deaf education journals.
She currently works at Appalachian Council Head Start as an Education Specialist/School Psychologist. At this job, she oversees mental health screenings, special education, disability services, supervision teachers and aides, as well as working as a behavior specialist for head start organizations across 11 counties in West Virginia.
She lives in Charleston with her husband, three rescue dogs, and two cats. In her spare time, she loves rock climbing, running, hiking, and practicing yoga.
Lisha Tignor is currently not instructing any classes.