Rachel Ruble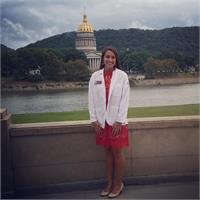 Rachel is from Williamstown, WV. She graduated as valedictorian from Wood County Christian School in 2015 and and received the Adolph and Edith E. Harris Tippens Scholarship. Rachel is currently second year pharmacy student at the University of Charleston and her interests include traveling, being outdoors, food, and dogs.
Rachel Ruble instructs the following:



For this

5 week in-house course

, not only will you have access to 24/7 review with our online test prep program, but also a weekly 4 hour in-house small group session with our ACT test prep tutor. The online course will evaluate each student's strengths and weaknesses and create a personalized study plan that is tailored to their needs. The tutor will teach any major areas of weakness, answer questions, provide motivation, and help students progress through the online course. This course will include practice testing and is recommended for students who need plenty of time to grasp, review and retain the content of the ACT test.

The classes will meet in our tutoring center on Sundays from 1:00 to 5:00 PM on the following dates:

Students need to purchase the book "McGraw-Hill Education ACT 2019" before the first class.




Cost is $499 plus applicable state and local sales tax.